American rapper, Lil Tjay has been arrested for the second time this year while he was shooting a music video on Wednesday afternoon in New York City.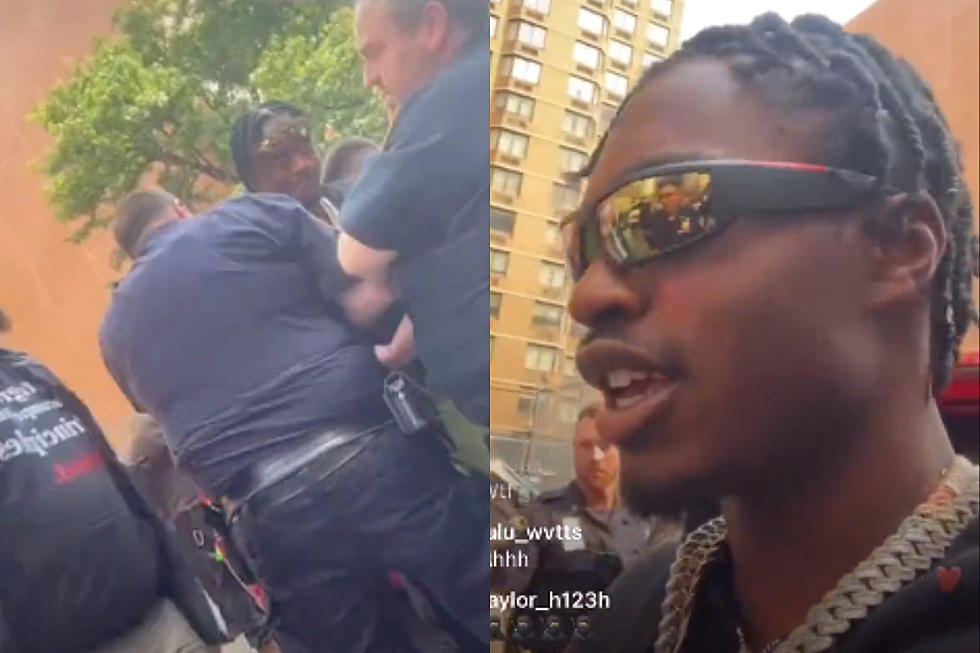 The 22-year-old turned on his Instagram Live to allow his followers to witness the incident which happened when the cops arrived on the scene in Manhattan and took him in for reckless endangerment.
In the video, Lil Tjay can be seen telling the police not to touch him and questioning the reason for his arrest.
"Nah. Do not touch me, bro," Lil Tjay told officers while standing next to his car.
"What am I under arrest for?" When one of the officers told him to turn around, he responded, "No, n***a. No, bro. Hell no. What's in the car? I don't know what's in the car. Don't touch me. There's no firearm in the car."
As the situation escalated, Lil Tjay's phone ended up in someone else's hands while he was surrounded by police officers.
Onlookers urged him to stop resisting arrest, with some advising him to set a positive example for the children present. They reassured him that the situation was not real and urged him to relax.
People in the background could be heard telling the rapper "Don't fight" and "You're bigger than that." Another person told him: "Tjay it's not REAL! It's not a real gun, you're not going anywhere just relax for a few minutes."
After the video went viral, Lil Tjay's attorney, Dawn Florio, issued a statement clarifying that the rapper's arrest was not related to gun possession, despite the previous incidents involving firearms.
According to Florio, the rapper was shooting a music video in Manhattan when the police arrived and arrested him for reckless endangerment.
"Lil Tjay was arrested by the police in New York City while he was on Instagram Live," the lawyer said in the statement.
"He was filming a snippet for a music video. My client was not arrested for firing a loaded firearm or possessing a loaded firearm. The arrest charge was Reckless Endangerment."
This recent arrest follows Lil Tjay's previous encounters with the law, including a January arrest for gun possession and another arrest for missing a court hearing.
Just one month before this latest incident, he was arrested for unlawful possession of a weapon/firearm without a permit.
It has been almost a year since the rapper was shot multiple times in an attempted robbery, which took place on June 22, 2022, in Edgewater, New Jersey.
A New York City rapper has been charged with three counts of first-degree attempted murder in connection with the shooting.
Watch the video below:
Lil Tjay was arrested by police while on Instagram Live. The police accused him of having a gun in his car 👀 pic.twitter.com/p5BDTmQK6P

— Daily Loud (@DailyLoud) June 6, 2023
Lil Tjay was arrested while on Instagram Live. The NYPD is accusing him of having a firearm in his vehicle. 👀
pic.twitter.com/Fx2PtGK9qU

— No Jumper (@nojumper) June 6, 2023
KanyiDaily had also reported how another American rapper, Blueface was arrested by the Las Vegas Metro Police Department for a shooting incident that happened in early October.