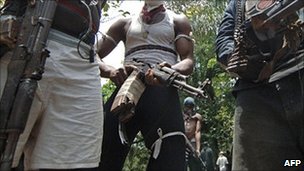 TWO kidnap gangs, Sunday, in Warri, Delta State, abducted five persons, including two daughters of a contractor to Chevron Nigeria Limited, aged two and nine years respectively and the wife a Shell Nigeria Exploration Production Company, SNPECO, employee.
However, the wife of the SNPECO employee and her sister's son, who were kidnapped by the first gang on Jakpa Road, Effurun, abandoned their guns and victims in the vehicle, and ran following a hot chase by soldiers.

But the kidnappers of the two children of the contractor, Chief Adewale and his house help, escaped with the children after they ambushed him, his wife and the kids at Effurun Roundabout – Nigeria Ports Authority, NPA, Expressway, close to Delta Broadcasting Service, DBS, Warri.
The military, police, navy and Delta Waterways Security Committee, DWSC, Warri, have launched a manhunt for the kidnappers.
Vanguard learnt that at 7.40 am, the wife of the Shell staff and her sister's son, were waylaid by the kidnappers, who arrived in two separate motorcycles on Jakpa Road, where she had gone in her KIA Sportage vehicle to dispose of some waste items.
They reportedly dragged them into the woman's car and sped off, but passersby who could not confront them, contacted soldiers, who pursued them from Effurun and Ekpan ends.
Sensing danger minutes later, the kidnappers tried to climbed a pavement on the road and the front tyre of the vehicle pulled. The soldiers did not immediately sight them and they escaped into the nearby Agadaga layout.
Officer Commanding, Ekpan sector of 3 Battalion, Nigerian Army, Captain Suleiman Bayawo, said they received a distress call and launched a manhunt for the kidnappers immediately.
He said a cut-to-size locally-made gun and cartridges were recovered from the vehicle, while the two victims were safe.


Culled From Vanguard.