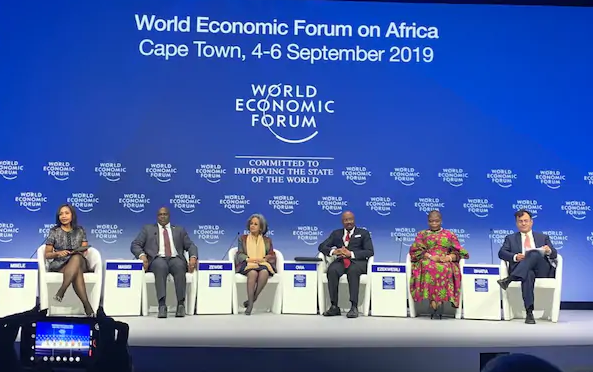 A former Minister of Education, Oby Ezekwesili, and Chairman of Zenith Bank Plc, Jim Ovia are both under heavy attack for attending the World Economic Forum (WEF) meeting holding in South Africa amid protests by Nigerian and other countries against xenophobic attacks by South Africans.
Mrs. Ezekwesili, a social critic and former presidential candidate, and Ovia were criticized by some Nigerians on Twitter for attending the forum despite the Federal Government shunning the forum to protest the xenophobic attacks against Nigerians residing in South Africa.
President Muhammadu Buhari's Personal Assistant on New Media, Bashir Ahmad, had tweeted that Vice-President Yemi Osinbajo was to represent Nigeria at the WEF, but "he had called it off in reaction to these gruesome attacks on Nigerians."
By Wednesday evening, pictures surfaced across social media showing Mrs. Ezekwesili and Jim Ovia, at the WEF event in South Africa. Many Nigerians expressed outrage over their attendance to the international forum amidst diplomatic rows between Nigeria and South Africa.
See some of the reactions below:
Why is no one talking about "JIM OVIA" ? I see only Madam Oby beign called out.
PS who else think they are both hypocrites? pic.twitter.com/QajvkiCwht

— Bakare_mubarakk (@Bakare_Mubarakk) September 4, 2019
Madam oby has always been a selfish and noise maker, a hustler she may not be able to refund if paid to attend World Economic Forum.

But my question is what Billionaire Jim Ovia doing in SA?

"Wealth cannot buy wisdom".#XenophobiaInSouthAfrica #SayNoToXenophobia pic.twitter.com/o5NLOyHWfe

— Black St. Capital (@BlackStCapital) September 4, 2019
Madam Oby, what are you doing today at the World Economic Forum in South Africa where fellow Nigerians are killed in #XenophobicAttacks
If Nigerians in South Africa give her the Ekweremadu treatment, Lessons will be learnt. pic.twitter.com/61nXvIHzWH

— Youngichu™❁ (@youngichu) September 4, 2019
Hypocrisy + lack of shame = "madam oby" pic.twitter.com/oEpK7rmNFq

— M.M.BUHARI (@mutakb) September 4, 2019
Madam Oby Ezekwezili is just one of those well-packaged Twitter hypocrites who just come up with populist opinions on every issue just to continually be in the news. I'm just imagining the number of threads she'd have done if Buhari was the one attending WEF at a time like this! pic.twitter.com/XkLYXPAlfT

— Olalekan Adigun (@MrLekanAdigun) September 4, 2019
Tiwa Savage cancelled a whole show that will earn her thousands of dollars but Madam Oby, one of our Presidential Candidate went boldly to the same South Africa for a meeting.

Musa can now die in peace, he has seen everything at the gate pic.twitter.com/2wqLGBfzkI

— Ethical ?? (@walecoker65) September 4, 2019
Obviously, Madam Oby can sell her destiny for Cameras and dollar!

There's no justification whatsoever for her to accept the invitation if as clueless as @MBuhari can do the needful by boycotting the kangaroo WEF.

Shame!!! pic.twitter.com/sIYkqSWiqv

— PDP Vanguard (@PDPVanguard) September 4, 2019
They're dragging Madam Oby Ezekwesili on instablog and someone in the comment section said "Fear women wey dey barb…"
My chest ???

— Oriaku ™ (@MimaMercedez) September 4, 2019
Madam Oby can't be in G-Unit fo sho!
Imagine 50' beefing with Ja Rule and u decided to go for his son's penis circumcision ceremony!
Wakanda move is that

— OSHOMAh (@JohnNetworQ) September 4, 2019
Madam Oby is the last person I expect would go to a WEF in South Africa that everybody has concluded Nigeria should stay away from. I am really surprised that she of all people would do something she would have spoken very strongly against if somebody else did it.

— HENRY Okelue (@4eyedmonk) September 4, 2019
Nigerians trying to understand if Madam Oby and Jim Ovia are actually Nigerians or South Africans or Nigerian-South Africans or South African-Nigerians pic.twitter.com/BSlA8i5vOG

— Philip This, Philip That! ? (@PhiiCoco) September 4, 2019
Madam Oby and Jim Ovia has failed the city. Do to them whatever you wish. pic.twitter.com/Ylp2sncieG

— NE Anyasi (@anyasi_emma) September 4, 2019
Madam Oby might never recover from this her action against Nigerians.. She has consistently put her self in our bad books. Even the main ajalaja Buhari refused to travel but she thought it wise to attend? pic.twitter.com/OFbnNjrjJB

— PrincessK (@Kindedeh) September 5, 2019
Somebody needs to sit madam Oby down and remind her that Muhammadu Buhari is the president of Nigeria and Nigeria is still her country, making him her president until 29th May 2023.
No amount of Einstein knowledge, pontification and grandstanding can change these

— Souljah (@jeffphilips1) September 4, 2019
So if we had elected madam oby as our 1st female president, this is how she would have gone to South Africa & attended the World Economic Summit despite the #XenophobicAttacks on Nigerians@obyezeks pls remain in https://t.co/feyEVy3fdf, dont come back. Thanks#SayNoToXenophobia pic.twitter.com/rGvyqwZsF2

— Kate-Nnaji (@nnaji_kate) September 4, 2019
Madam oby is part of the people who want Nigerians to do revolution.

Madam oby can't even respect Nigerians & boycott the weff programs in SouthAfrica despite what's going on with the countries

Your favorite activist will come to twitter & call herself voice of the voiceless.? pic.twitter.com/nym7utFih4

— QUDUS 1 (@Babatundequdu13) September 4, 2019
https://twitter.com/Ade_Nurayn/status/1169278975954362369