4-Year-Old Boy Stabbed To Death By Father's Old Friend Who Was Looking For Assistance In Adamawa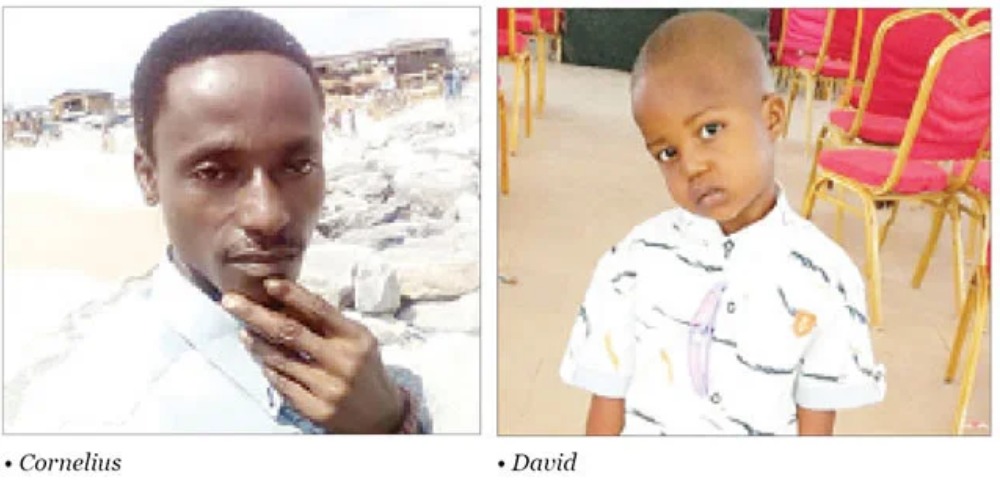 A four-year-old boy, David Emmanuel-Tarfa, has allegedly been stabbed to death by his father's old friend, John Cornelius, on Kashim Ibrahim Way, Jimeta, in the Yola South Local Government Area of Adamawa State.
Punch reports that Cornelius had visited Jimeta on Wednesday, February 19, 2020 and asked his old friend, Stephen, to allow him pass the night at his house.
The victim's father, Stephen, initially declined the request because they had been separated for several years and he is now married.
Stephen later yielded after the suspect promised to leave the following morning.
"I had my doubts because I had not seen him in five years. I told him that I was now married and suggested that he should go and stay at another friend's house. He agreed and left.

"He returned later and said the man was not at home. He said he was tired and pleaded to spend the night with the promise that he would leave the following day.

"My wife and I agreed and in the morning, he left without informing us," Stephen told Punch.
The 38-year-old father said he was surprised when Cornelius returned that night, asking to sleep at the house again for the second time.
"I turned down his request and accompanied him to the other mutual friend's house. I discovered that they had a rift. I tried mediating, but realised that the effort was useless because the man refused.

"Cornelius started saying he was tired of life because everyone he knew was rejecting him.

"He told me to give him transport fare to go back to his place that night. After giving him N500, I sensed that it was too late and because he had been acting suicidal, I felt staying at my place for the night would help," he added.
However, Cornelius, after staying on the second night, allegedly brought out a knife, grabbed Stephen's son, David, and stabbed him multiple times in the neck.
The father of two, while demanding justice for his son, said efforts to rescue the victim proved abortive.
"Cornelius used his hand to close my son's mouth to prevent him from shouting, and tried using a knife to slit his throat.

"Because he felt the knife was not sharp enough, he stabbed him in the neck. Although the pain was too much for the boy, he still managed to shout.

"My wife's sister, Mariam, heard his voice, rushed out from the kitchen and upon seeing what the man had done, quickly grabbed my daughter, Diana, and ran outside to alert my wife.

"My wife rushed into the parlour, pushed Cornelius away and carried David. Cornelius chased her with the knife and she ran into our room.

"It was at that point that I started fighting him till he was disarmed. I saw my wife crying with bloodstains all over her body. I saw my son with several holes in his neck. People helped me in pinning Cornelius down, while my son was rushed to the Peace Hospital, where he died.

"The police arrested Cornelius and transferred him to the State Criminal Investigation and Intelligence Department. I want justice. I never did anything wrong to deserve what he did to my son; all I did was to help him. My wife has been unconscious and placed on drip since this tragic incident."
The state Police Public Relations, Suleiman Yahaya, said Cornelius had been arrested, adding that the state Commissioner of Police, Audu Madaki, had ordered investigation into the incident. He said:
"The matter was reported to the police and we apprehended the suspect. Investigation is going to be done discreetly to unravel what led to the death of that boy.

"We are asking people to stop bringing strangers into their houses and allowing them have access to their families. They should equally report any suspicious movements around them."
Yahaya said as soon as investigation is completed, the suspect will be charged to court for the law to take its course.
Meanwhile, KanyiDaily had reported how a 50-year-old man was caught red-handed sexually molesting his friend's underage daughter inside Lagos State Polytechnic (LASPOTECH).