Nigerians Drags Pastor Adeboye Over His Birthday Post To His Wife On Her 72nd Birthday
The General Overseer of the Redeemed Christian Church of God (RCCG), Pastor Enoch Adeboye has come under fire over his social media post on his wife's 72nd birthday.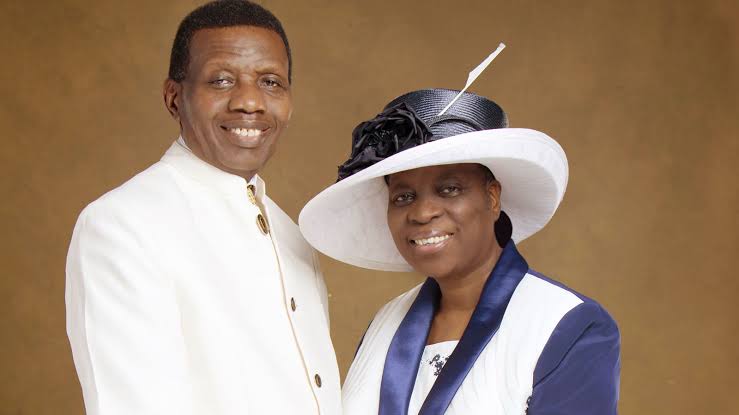 Pastor Adeboye had taken to his Instagram page and showered several accolades on his wife as he acknowledged how he is still her head in the home despite how powerful she is.
The pastor used his wife's birthday as an opportunity to teach young ladies lessons in place of their mistakes, revealing that his wife still cook and sever him herself.
"Today is my wife's birthday and there are lessons that women, especially so many young brides can learn from her. She is a powerful woman, I know that.

"She has many people who take instructions from her, but as powerful as she is, and even though she has seen me in my weakest moments, I have no doubt that I am her head.

"It does not matter what is on her itinerary if I say I would like you to go with me to so and so place the best she can do is try to convince me otherwise. If I insist, she would cancel whatever she was to do and come along with me."
Explaining further, the man of God said that a man is the head of the home and that it is a terrible thing for a man to feel like the woman is taking his place as the head.
"The husband is the head of the wife. No matter how educated or successful you are, your husband is your head and you must regard him as such at all times. It is a terrible thing for a husband to feel his wife is his head.

"Many men are misbehaving in their marriages simply because they want to establish that they are the head of their wives."
Pastor Adeboye further revealed that his wife still cooks for him and serves his meals. He said that she does not relegate her primary duties to anyone else.
"Busy as she is, she still cooks my meals and serves me herself. Many young ladies these days leave everything to the house help. My wife still trims my nails for me.

"There was a time when I was a teacher and was staying far from town. She had to cut my hair during that period. She is the only partner of the Adeboye Corporation; she doesn't delegate her primary duties to anyone else.

"Just like the virtuous woman described in Proverbs 31:1-31, I safely rest on my wife. Anything I uphold, she upholds too. Can your husband rely on you?."
Read his full post below:
It didn't take long before social media users start dragging him for "making his wife's birthday all about himself and his power over her". See some of the reactions below:
Pastor Adeboye should have just said "happy birthday flesh of my flesh" and keep it moving.
Now we know he can't do basic things like feed himself and trim his nails.
TMI.

— Moe (@Mochievous) July 14, 2020
Pastor Adeboye is not kuku setting standard for anyone,he's only expressing how submissive his wife has been these past few years https://t.co/vGvmL2Vdbt

— Totebag/Crossbagplug🛍 (@seun__oj) July 13, 2020
Keep dragging Pastor Adeboye whose marriage is still standing after 50 years just because you have phone and data. Pele o feminist.

Whereas the only time you take charge in your relationship is when you say "go and close the door" or "don't cum inside me" time. Ode

— Lola Okunrin (@lollypeezle) July 14, 2020
can't believe Adeboye really sat down & found a way to make his wife's birthday about himself and his power over her. a simple "happy birthday my love" will do next time please

— b (@benxta_) July 13, 2020
Its really funny how unmarried people know better than pastor adeboye who has been happily married for over 50years.
He's giving you expo to a successful marriage and instead of taking notes you're claiming woke.
This woke twitter and feminism don tire me.

— Mr Alan (@Alan_yournextbf) July 14, 2020
Too many outrage on how Pastor Adeboye celebrates his wife on her birthday, it's not your birthday, it's not your marriage, and why are you worried about a marriage that's over 40 years in a world where many can't even keep relationship for 6 months, worry about Boko Haram biko.

— UNCLE AJ (@UNCLE_AJALA) July 14, 2020
I like how Pastor Adeboye likes to rile up woke Twitter. He does not need your validation for anything. He is celebrating his wife the best way he can. Take your energy and tears and use it to mend your parents marriage.

— PROMTHEUS (@Prome_theus01) July 13, 2020
Pastor Adeboye should have just said "happy birthday flesh of my flesh" and keep it moving.
Now we know he can't do basic things like feed himself and trim his nails.
TMI.

— Moe (@Mochievous) July 14, 2020
Pastor Adeboye and his wife have been married for 50+ years and he's sharing what works for them.

But you, without any experience, in your 4th relationship this year like say na internship dey drag am !!

Y'all are just practicing misandry under the guise of feminism 🤡🤡🤡

— ᴅᴇᴊɪ xᴏ™💦🌍 (@dejiimole) July 14, 2020
Imagine a 19-old girl angry about how a 72-year old woman is acting in her marriage that has lasted from 1967-now while making life easy for her and her husband ? It's crazy right ?
That's exactly why Pastor Adeboye is trending

— Dehkunle of Africa 💧🐐 (@Dehkunle) July 14, 2020
Notes from Pastor Adeboye's marriage

1. She should know how to cook
2. She should know how to barb hair
3. She should know how to cut nails
4. She should be submissive
5. She should be my number 1 fan.
6. She should uhm…Did I miss anything? pic.twitter.com/uuFJlwMC3u

— Noble Jay (@Jay__Marlon) July 14, 2020