A police officer has been accused of killing a young keke driver identfied as 'Schoolboy' over N100 bribe at Rukpokwu Town in Port Harcourt, Rivers State.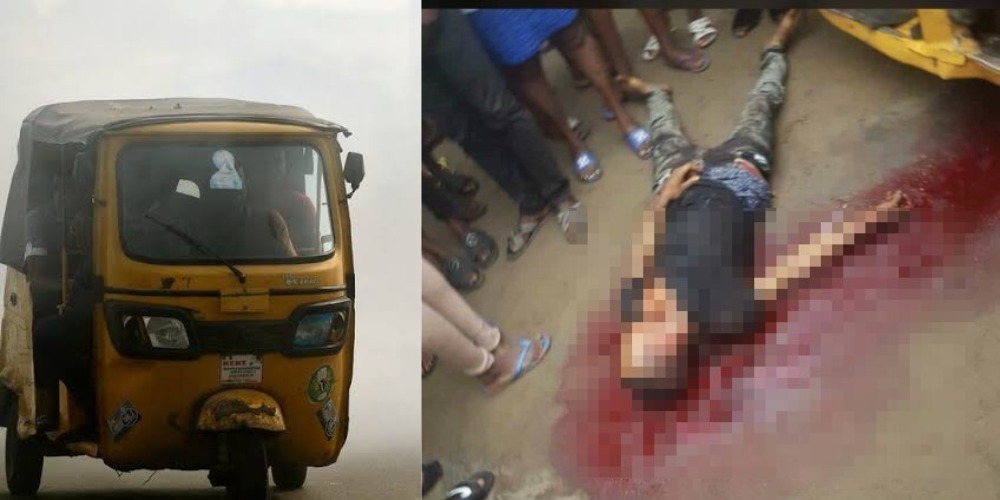 It was gathered that the police man shot dead the young keke driver this Thursday morning because he refused to give them N100 bribe.
The officers was said to have fled the scene immediately after killing the young man, forcing other keke drivers in the area to block the road in protest against the killing of 'Schoolboy'.
This incident is coming amidst call by some Nigerians for a second wave of the #EndSARS protests against police brutality and human right abuse by law enforcement officers.
Meanwhile, many Nigerian have taken to their social media accounts to condemn the killing of the keke driver and also call for the arrest of the officer involved.
Watch the videos and see some reaction below:
Police officer kill keke driver named School Boy because he refused to give him N100, happening in Rukpokwu, Port Harcourt. 🙁
.#EndPoliceBrutalityInNigeria #EndPoliceBrutality #EndSARS #SchoolBoy #PortHarcourt pic.twitter.com/CXbhqrU7M7

— SOSnation blog💡 Hot news daily (@SOSnation_) December 10, 2020
The killing at Rukpokwu was not a stray bullet. It was a direct shot in the head of a Keke rider that refused to part with N100. #EndSARS was barely 7wks ago & here we are. @MBuhari asked people not to protest but how do you stop this anger. @PoliceNG
Grammy @TodayFM951 pic.twitter.com/v2U4baqGVi

— Victor Ezeama (@daviqy_sabad) December 10, 2020
Police just killed a keke napep guy today at Rukpokwu (Mgbuchi) in Port Harcourt, and he ran away.
Please when will this stop?, when will the police stop killing us instead of protecting us?, if people should protest or retaliate now, Buhari will be disgusted. This is tiring tbh

— Uncle Ajala (@UNCLE_AJALA) December 10, 2020
1/2

There is sporadic shooting now in Rukpokwu by police officers following protests by tricycle operators as a result of a keke driver who was allegedly shot dead by a​ police officer​ 

An eye witness confirmed that the police officer had reportedly shot the Keke driver over pic.twitter.com/pFXda9xmmj

— Decent Nigerian (@decentnigerian1) December 10, 2020
https://t.co/lKB2v85vQH pic.twitter.com/1fiyhxOW9L

— NigeriaInfoPH (@NigeriaInfoPH) December 10, 2020
To those of us in Port Harcourt, Rivers State. Please avoid Rukpokwu (New road) area. You can follow SARS road. Some shootings going on there this morning. Killing recorded. Traffic is heavy. Heavy Police presence over there. Stay safe.

— Mahmudio (@Mahmudio1) December 10, 2020
Nigerians when are we putting an end to #PoliceBrutality.
Police Officer shot a keke driver all because he refused to give him #100
Live Now in Port Harcourt Rukpokwu..#EndSARS #LekkiMassacre #Portharcourt #Lekki #Lagos

— Bòròkìnní Of Lagos 🇳🇬 (@borokinniquadri) December 10, 2020
Still on Rukpokwu igweocha killing by Nigerian police/army @MaziNnamdiKanu @EmekaGift @realDonaldTrump @simon_ekpa @MrSomtoOkonkwo @netanyahu @ pic.twitter.com/1QHbSzWtJU

— Ikechukwu Ebere (@IkechukwuEbere8) December 10, 2020
Heavy shooting at Rumuokoro/Rukpokwu @adeyanjudeji @NigeriaInfoPH pic.twitter.com/eV7N4LWRrQ

— Eferebo (@cool_Eferebo) December 10, 2020
MORE VIDEO: Happening Live Now in Port Harcourt Rukpokwu.#EndSARS #LekkiMassacre
A Police Officer shot a keke driver all because he refused to give him #100

Rt for awareness!! #EndPoliceBrutality ASUU pic.twitter.com/eQBCrbsIJh

— I❤ABUJA | PR🇳🇬🌹 (@daniielkyle) December 10, 2020
Police just killed a young keke rider popularly called school boy over 100 naira in Rukpokwu portharcourt. @Gidi_Traffic @VEJ0ME @YeleSowore @adeyanjudeji @HenshawKate #EndSARS #EndPoliceBrutalityinNigeraNOW #EndPoliceBrutality pic.twitter.com/o6p6irSULl

— AMAECHI KAmdiChukwu BENEDICT (@djbantiben1) December 10, 2020
News update! Scenes from Rukpokwu area of Port Harcourt this morning.

Please avoid area pic.twitter.com/Cm6klCvmBT

— Tweetest Media Nigeria (@Tweetest_media) December 10, 2020
Pls retweet this.
All the keke drivers are coming out with machetes. This happened along Airport Rd Rukpokwu PH this morning. Police shot a keke man just because of 100 naira @PoliceNG
#EndSARS #EndPoliceBrutalityinNigeraNOW
Davido| Wizkid | Grammy | Buhari #LekkiMassacre pic.twitter.com/a3Xolh8Jz9

— 9ja Classic ✪ (@9ja_classic) December 10, 2020
Update: Civil Unrest/Tension, 08:57hrs, Rivers State, December 10, 2020.

Reports of civil disobedience by irate youths at Mgbuchi area of Rukpokwu, Obio Akpor LGA, Rivers State following the killing of a tricycle rider (KEKE) this morning. Avoid the area. pic.twitter.com/kZ5oI2Ee4V

— Bulwark Intelligence (@Bulwark_Intel) December 10, 2020
KanyiDaily recalls that a 27-year-old Nigerian woman, Felicia Nkemakolam Okpara, had recently narrated how she was forced to remove her bra publicly in the police station, and an officer kept "flogging" her with his gun.