Nollywood actress, Nkechi Blessing Sunday and her estranged lover, Opeyemi Falegan, have resumed their fight on social media, months after their controversial split.
Nkechi Blessing Says She Didn't Love Opeyemi Falegan
The drama started on Thursday when the actress disclosed during an interview with TVC that she never loved the politician.
According to Nkechi, she only dated Falegan to get back at another ex-boyfriend who was flaunting his new girfriend on his social media pages.
She said, "No, I don't love him anymore. The thing is he was the one that loves me more so the time I was trying to level up to the love he said he has for me, that was was where he messed up.
"I was going to keep this for my YouTube channel but let me just break everything down and I wouldn't want anyone to make the mistake that I made.
"I recently broke out from a relationship, my ex that lives in America, and in the heat of the break up when we were still trying to fix things, he started posting a girl covering her face.
"I realised there is this man asking me out, okay fine man but in all ramifications of the type of people I would like to date he isn't one of them, you get it.
"So, that was me trying to use him to get back at my ex and I landed in a relationship. You get it? so it was just likeness, it wasn't love. that's it. A lot of ladies make this kind of mistake that they end up marrying who they don't love."
In his reaction, Falegan asked Blessing to "stop mentioning my name", saying he has no excuse to get back with her, adding that she has gone out of "content" and now "sounds really empty".
"Attaching my name to yours is dysfunctional, just stop mentioning my name abeg. Someone should please give her content, she sounds really empty now," he wrote.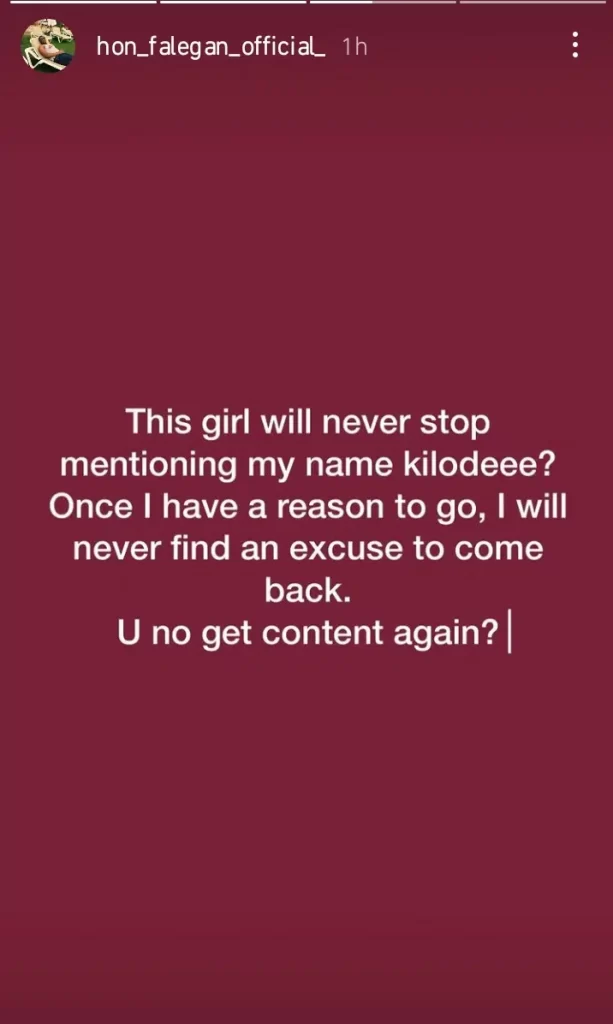 Blessing, however, fired back at the politician, saying she only used him as a "reference" to young ladies, claiming that Falegan has remained "stagnant" since she left him.
She wrote, "Lmooo… Oga will get small relevancy now enjoy!!!!! Mr man I left and you were stagnant… I just say make I help you small cus after all what are old friends for Ashiere!!! Left where is it not clear who left who Oponu….hunger Ambassador!!
"I just used you as a reference so ladies out there won't make the same mistake I made, so stop feeling important bros. 1 to 10 you are nowhere close.
"By now you suppose dine leave that Rat hole you dey stay na come make I dash you one plot atleast you fit become landlord… Ashiere!!!
A lot of you were not born with love, so I understand if love don't find you easily…emi Valentino Ife Gan Gan," she added.
The development comes a few months after Nkechi Blessing lambasted Opeyemi Falegan after he apologized over their messy breakup.