Popular OAP, Toke Makinwa has denied reports circulating the social media that her mansion located at the exclusive Banana Island area of Lagos State, has been seized by the Asset Management Company of Nigeria (AMCON).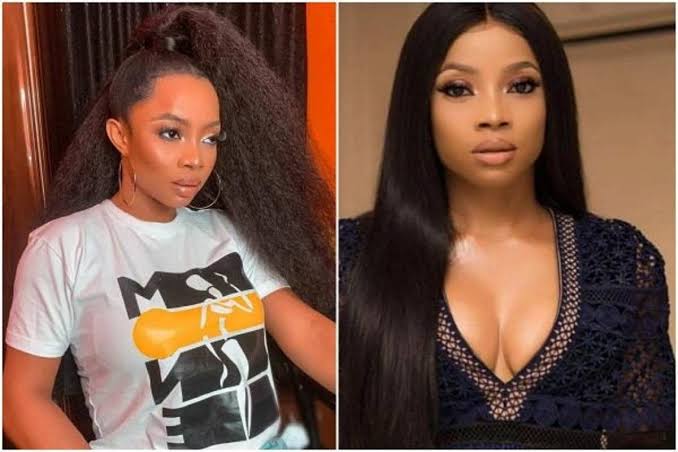 Earlier Nigerian Twitter went wild after some users claimed Toke Makimwa's house was taken over by AMCON due to her inability to pay an unserviced loan.
Some fans alleged that the mansion was bought for her by Festus Fadeyi, the Chairman, Pan Ocean Oil Corporation, an indigenous oil and gas company.
However, Toke Makinwa in a statement issued by her publicist, Andrea Manuela Giaccaglia, said she is the sole owner of her Ikoyi property and that it has not been confiscated by AMCON.
The media personality threatened to take legal action against the originators of the report that her house has been taken over by AMCON.
"On behalf of Ms. Toke Makinwa, we would like to address the rumour circulating the internet that Ms. Toke Makinwa's alleged house in Banana Island was taken over by the Asset Management Corporation of Nigeria (AMCON)," part of the statement read.

"Ms. Toke's is the sole owner of her residence in Ikoyi. Our lawyers have been contacted and legal action will be taken against the originators of this story. Kind Regards, Toke Makinwa's Management."
Below are some of the reactions tailing the report on Twitter:
So it's Festus Fadeyi! Interesting. I remember his children called out Toke Makinwa few years ago to leave their father alone. That the man was spending a lot of money on her while being heavily indebted to Skye Bank. Kai. Men are Scum.

— Sola (@Advsola) July 27, 2020
Toke Makinwa was out here last week telling us marriages should have expiry date and should be subject to renewal clause after a number of years not knowing her house on Banana Island has expiry date with AMCON but not subject to renewal clause.

— Retired Sinner Boyfriend Dorathy #BBNaija (@R_Thobykov) July 27, 2020
When Festus's wife tries to ask him about Toke Makinwa's house👀 pic.twitter.com/lJRumCj5L5

— . (@LilMrSugar) July 27, 2020
Exactly 3 years ago, the children of Festus Fadeyi were fighting Toke Makinwa to leave their father alone, because the man was spending extravagantly on her while still indebted to Skye Bank. This man self get werey for head make we no lie

— • General Zee 🎭 • #BBNaija (@heisTactic) July 27, 2020
Toke Makinwa was broke shaming people the other day while living in a house that was bought on credit by someone's Dad. Now they've collected the house and Sis have suddenly turned to a motivational speaker.

Nothing in this life is eternal. Be humble!!!

— Obi Of Onitsha🇨🇦 (@Uncle_clique) July 27, 2020
If you actually believed Toke Makinwa bought a house in Banana Island, the joke really is on you. Do you know how much houses there cost? What business did she do to be able to afford it? When you ask these questions, you're termed a hater. No wahala

— ChrisBest Oguguo (@chrisboguguo) July 27, 2020
This life don't envy people anyhow ooooooo

Your mentor Toke Makinwa have been chased from Banana island 🌴 to Cassava plantation 🤣🤣🤣🤣 pic.twitter.com/mC3KRz3RuB

— OLUWASEMILORE DSF (@DSFspeaks) July 27, 2020
AMCON: We are taking over the property kindly pack your bags and all your valuables and leave this premises immediately !
–
Toke Makinwa: *outside her house in Banana Island* pic.twitter.com/tCdCYND1xP

— Nobel The Indaboski ❄🇳🇬 (@vhic3adibe) July 27, 2020
Toke Makinwa see at Cele Express moving from Banana Island to Ikotun Egbe after AMCON took over her home. pic.twitter.com/vhpGX679bY

— Ifeanyichukwu (@Afu_Dimkpa1) July 27, 2020
Toke Makinwa trying to check into the seized apartment to confirm the news.pic.twitter.com/qbDCiHqybV

— Premier (@SodiqTade) July 27, 2020
After AMCON repossesses the house bought for Toke Makinwa by her BIG god.

Journalist: Is this true Toke
Toke Makinwa: 👇👇👇 pic.twitter.com/R7TOzlo176

— Vanessa (@NESSAOFABJ) July 27, 2020
This is the part where all these Twitter feminists rally around Toke Makinwa to help buy her another house in Banana Island. Amen?😂

— Omoniyi Israel (@__Omoissy) July 27, 2020
Toke Makinwa story should be another reason for anyone to pause and think a while, before shouting "God when" everytime! "Isale oro ole gbin"

— Yakuza Of Ibadan 🏝 (@UncleAbiodun) July 27, 2020
AMCON took over Toke Makinwa's 'house'? Baby girl should have put her name on the property yo😭

— Gift 🖤 (@Giftama_) July 27, 2020
Landlords in Ikorodu when Toke Makinwa comes to price 1 room selfcon pic.twitter.com/cfxNW0sCVl

— Neymar PR (@BagOfNuts_) July 27, 2020
Toke Makinwa loses new house to AMCON.

I thought she said it is hardwork? Small Girl Big God!🤐

— #Nigeria (@johnkinns) July 27, 2020
Toke Makinwa been dey motivate girls say she bought her first house at 35. Now she don cast.

— HUGO (@CallMeUgo_) July 27, 2020
Our ladies that follow Toke Makinwa desire to acquire speech bumpers to bumpers, you can be a baby girl with your own money.

Work smart!!!

— Abimbola ICON 💡 | ILESA 1st SON (@pastuerade) July 27, 2020
Festus Fadeyi and Toke Makinwa go be gist for the day now 🤦🏾‍♂️

— Bsa Bsika (@SayoIroko) July 27, 2020
KanyiDaily recalls that Toke Makinwa had advised women who get wooed often by married men to "chop their money and run away".
She told single women that the next time they come by a man who is confident to reveal this marriage status while attempting to cheat, they should go ahead and enjoy his money before making an escape.