Nollywood actress, Sarah Martins has apologized to Afrobeats superstar, Davido, over her post on social media following an outburst by his baby mama, Sophia Momodu.
KanyiDaily recalls that Davido's first baby mama, Sophia Momodu had recently expressed her desire to change the last name of their daughter, Imade Adeleke.
In her rants, the mother of one revealed that she has been playing the roles of mother and father for Imade, implying that Davido is a deadbeat father.
Amid the reactions trailing Sophia's posts about Davido, Sarah Martins took to her Facebook page to advocate for the implementation of child support laws in Nigeria to address fathers who neglect their children after separating from their mothers.
While she attached a photo of Sophia Momodu to the post, the actress clarified that her remarks were not directed at Davido or his baby mama.
She emphasized that her post was for every hardworking woman who struggles to provide for her children alone while men enjoy their lives and spend money on other women without caring about their own children.
The actress made it clear that she did not support changing a child's identity to frustrate their father and reiterated that her post was not solely about Sophia but that she used her as a case study because she had spoken out.
Sarah Martins appealed to the Nigerian government to prioritize child support and address the issue seriously.
She pointed out that some of these fathers are billionaires but choose to frustrate and mistreat their children to spite their ex-wives or baby mamas, which should not be the case.
The actress also urged men to stop punishing their children for their mothers' mistakes and highlighted the importance of being good parents even when not together.
Sarah Martins wrote: "Seriously…..I think it's high time the federal government of Nigeria puts CHILD SUPPORT into serious consideration and takes it extremely serious!
"A woman shouldn't be chasing the father of her kids or kid up and down to take care of her children….it should be his responsibility!
"Nigerian men re wicked and conning. Why should a woman be the only one suffering for your kids the moment break up happens????
"If women abandons their children the very same way Nigeria men abandons their children, Nigeria will be filled with frustrated children who will eventually grow to become nuisance in the country and automatically it will definitely affect the country as a whole.
"This post is not necessary about Sophia Momodu, this post is about every woman working extremely hard to carter for their children alone while the men are out there enjoying their lives and lavishing their money on other women not giving a fvck about their own children!
"Nigeria should start dealing with DEAD BEAT FATHERS! If they can climb a woman and make her pregnant, they should be held responsible for the welfare of their children.
"Women need to come out in mass and protest against DEAD BEAT FATHERS! Enough is enough!
"A lot of children are armed robbers, criminals, fraudsters today because there were nobody to fend for their needs especially those that lost their mothers and those that were abandoned alongside with their mothers to suffer.
"A lot of children re school dropouts, a lot of children are molested and abused on daily basis, a lot children venture into prostitution to make a living etc.
"Note: I am not in support of changing a child's identity to frustrate he's or her father. This post is not about Sophia, I am only using her as a case study because she was bold enough to speak out.
"Nigerian Government pls look into child support and take it serious! Some of these fathers are billionaires, but because they want to frustrate and be extra mean to their ex wives, baby mamas etc they chose to frustrate their children as well which shouldn't be so.
"Dear men, stop punishing your children for the mistakes of their mother. We can be good parents to our children even without being together."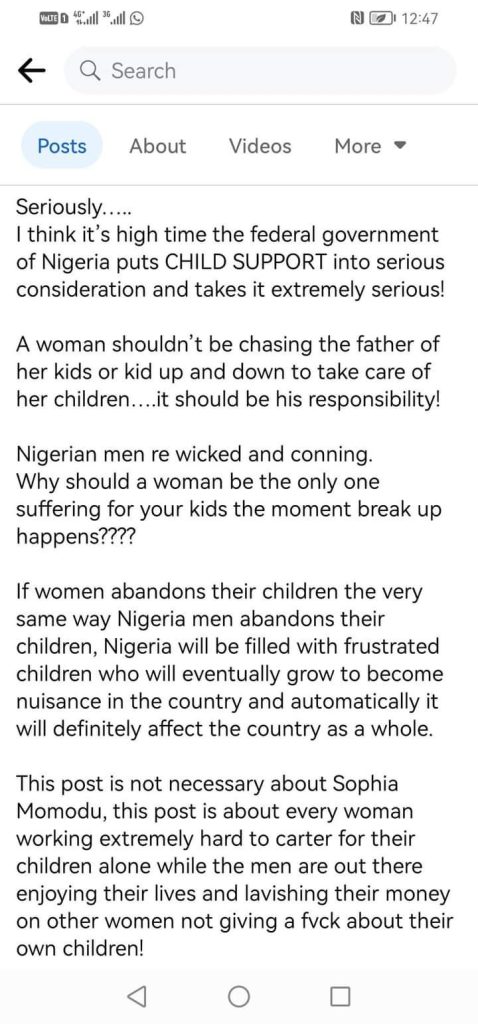 Sarah Martins Apologizes To Davido And His Family
A few minutes later, the actress tendered an apology to the Adeleke family, especially Davido's cousin, Clark Adeleke while stating that she never meant an attack on them.
Sarah Martins acknowledged that the social media community can attest to Davido's exceptional parenting skills toward all his children.
Recognizing her mistake, she conceded that it was inappropriate to use Sophia Momodu's photo as an example in her earlier post. Consequently, she has taken down the said photo.
She wrote: "To whom it may concern. My last post was never intended to disrespect Davido and his family. Everyone on social media can attest to the fact that Davido has been an excellent father to all his children. Maybe I shouldn't have used Sophia's picture as a reference; to this effect, the post is taken down."
See some reactions below:
KanyiDaily recalls that Sophia Momodu had recently accused Davido of bullying her financially into staying with him.