#EndSARS protesters, human rights groups, lawyers and political big wigs have warned the Federal Government of Nigeria against deploying soldiers to stop protesters campaigning for police reforms as that would backfire on Nigeria.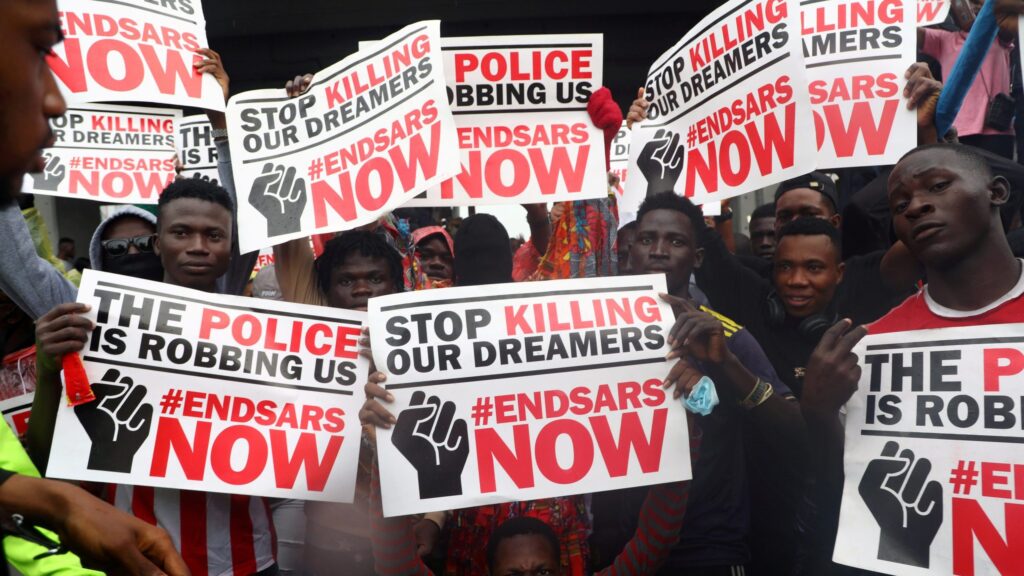 Protesters demanding the total disbandment of the Special Anti-Robbery Squad (SARS) and a total reform of the Nigerian Police amongst other requests have been holding rallies across the country for the past 12 days.
The Nigerian Army on Saturday announced that it would begin Operation Crocodile Smile aimed at tackling cyber warfare and insurgency.
#EndSARS protesters and other groups interpreted this as a move by Buhari's regime to deploy troops to quell demonstrations against SARS.
However the Army, in a statement titled, 'Exercise crocodile smile VI has nothing to do with #EndSARS protests whatsoever' said the operation was not targeted at the protesters.
A few hours after the Army issued its statement, the Federal Government, through the Minister of Information and Culture, Alhaji Lai Mohammed, also said no government would fold its arms and allow anarchy.
Mohammed, in an interview with the Nigerian Television Authority, said that while the original conveners of the protests might have meant well, it was obvious that they were no longer in control of the initiative.
READ: #EndSARS Protesters Hold Candlelight Procession For All Victims Of Police Brutality In Nigeria [Video]
The minister said a peaceful protest was an integral part of democracy, adding that that was why the Federal Government had treated the protesters in a very civilized manner.
He stated:
"But if you look at what happened to the governor of Osun State, it has gone completely beyond a peaceful protest against excesses and abuse of power by the police.

"There is nowhere in the world where a government will fold its arms and allow the country to descend into anarchy.

"We are no longer dealing with #EndSARS but a volatile situation that can lead to anarchy if the government does not take some very firm steps to protect the lives and livelihood of innocent Nigerians."
Dino Melaye, former Kogi West Senator advised the Federal Government to work with protesting Nigerians or face revolution.
Melaye gave the advice while stressing that the government had no constitutional powers to ban protest.
The former lawmaker said the anti-police protest was an indication that Nigerians had woken up from their slumber.
In a tweet, Melaye wrote:
"Government has no power in our extant laws to ban protests.

"So, the Government must realise that the people have woken up from their slumber. Work with the people or welcome a REVOLUTION. SDM."
ALSO READ: Nigerians Raise Over N4m For #EndSARS Protester In Need Of N1.5m Prosthetic Leg
Femi Fani Kayode, the former Minister of Aviation has also warned the FG of Nigeria against deploying soldiers to disperse the protesters.
In a post on his Facebook page on Sunday, Fani-Kayode said that Nigerians had the constitutional right to protest against bad leadership without fear of intimidation and therefore government must not attack them.
He said,
We will not wait before more blood is shed before we speak and before we send out this warning.

We will not wait until there is another mindless and needless massacre and massive shedding of innocent blood by our security forces before we shout out.

We say this today, we say it without fear or favour and we say it for everyone, both friend and foe, to hear loudly and clearly: the determination to use brute force and to kill innocent young men and women in an attempt to crush this protest comes with a very heavy price tag and butchers bill.

The plan to deploy soldiers in our streets and to slaughter #EndSARS protesters in the same way that the Shiite Muslims and IPOB youths were once slaughtered by the military and security forces will be Lt. General Tukur Burutai and President Muhammadu Buhari's biggest mistake and gravest error.

This must NEVER happen and if it is true that they are seriously contemplating it then they should reconsider and think again!

If for ANY reason whatsoever, they go ahead, it will turn the #Endsars movement into the #EndNigeria movement and no force or power in hell or on earth will be able to resist or stop it.

We warn again: do not unleash the dogs of war and demons of hell on these protestors. Do not kill these INNOCENT, HARMLESS and DEFENCELESS young men and women who have courageously embarked on a LAWFUL and PEACEFUL protest and who are doing nothing more than exercising their constitutional right of freedom of speech and freedom of association.

The consequences of going ahead and doing so, amongst much else, will be that you will end up in the International Court of Criminal Justice and be prosecuted for crimes against humanity and genocide in the not too distant future.

I say it again, do not bite off more than you can chew, do not beat the drums of armed conflict and do not let slip the dogs of war!

This matter can and must be handled with the utmost maturity and restraint by the Federal Government and in a peaceful, rational and reasonable manner.

These young men and women are fighting for their future: they cannot and will not be intimidated. The threat of mass murder or genocide or its actualisation will not stop them: rather it will embolden them and turn them into martyrs for democracy.

A word is enough for the wise!

#ENDSARSNOW #endpolicebrutality #EndPoliceBrutalityinNigeria #EndGenocide #EndSARS #endmassmurder
DON'T MISS: Thousands Of #EndSARS Protesters Walks 30km From Awka To Awkuzu In Anambra [Video]
Political big-wig and former Rivers State Senator Lee Maeba also condemned the deployment of soldiers during the #EndSARS protests.
In a post on his Facebook page, Lee Maeba wrote:
Army announcement of operation CROCODILE SMILE from 21st October to 31th December is an affront on the current #ENDSARSNOW protests.

OPERATION CROCODILE SMILES Is worse than SARS!

Army cannot invade civilians in any democratic nation!

STOP BURATAI NOW!!
ASCAB an organization led by a human rights activist, Femi Falana, SAN, have vowed to drag the Chief of Army Staff, Lt Gen Tukur Buratai, to the International Criminal Court in The Hague if any of the #EndSARs protesters was killed by any soldiers.
READ: #EndSARS Protesters Launches Helpline Centre And Online Radio: Soro Soke – [Audio]
The group, in a statement by Falana titled, "#EndSARS: Kill protesters, face International Criminal Court, ASCAB cautions Buratai," urged the Federal Government to withdraw the plan to use soldiers to quell the protests.
The ASCAB, said,
"Buhari should not invite soldiers to resolve a purely democratic issue that calls for dialogue and constructive engagement."
It noted that protests had common features across the world as seen in Hong Kong, the United States, France, South Africa, Belarus and Sudan.
The group added that in no instance were soldiers deployed to suppress the protesters. "Nigeria wants to set another ugly precedent in world history," the group said.
ALSO READ: #EndSARS Protesters Setup Free Phone-Charging Spots At Lekki Toll Gate, Lagos [Video]
It reminded the Federal Government that Operation Crocodile Smile had been declared illegal by a Nigerian court with competent jurisdiction following legal actions filed by Falana.
It added that efforts by the chief of army staff to challenge the order by approaching the Court of Appeal failed.
The coalition said,
"Every bullet that goes out from the barrel of the gun is owned by the people of Nigeria. It is a crime under international law to release these bullets with the hope of taking human life.
Meanwhile, One of the EndSARS protesters, Anthony Onome Unuode, who was stabbed by thugs on Saturday, died yesterday.