American-Barbadian singer, Rihanna has condemned the killing of Nigerian youths protesting against the extrajudicial activities of the now-defunct Special Anti-Robbery Squad (SARS).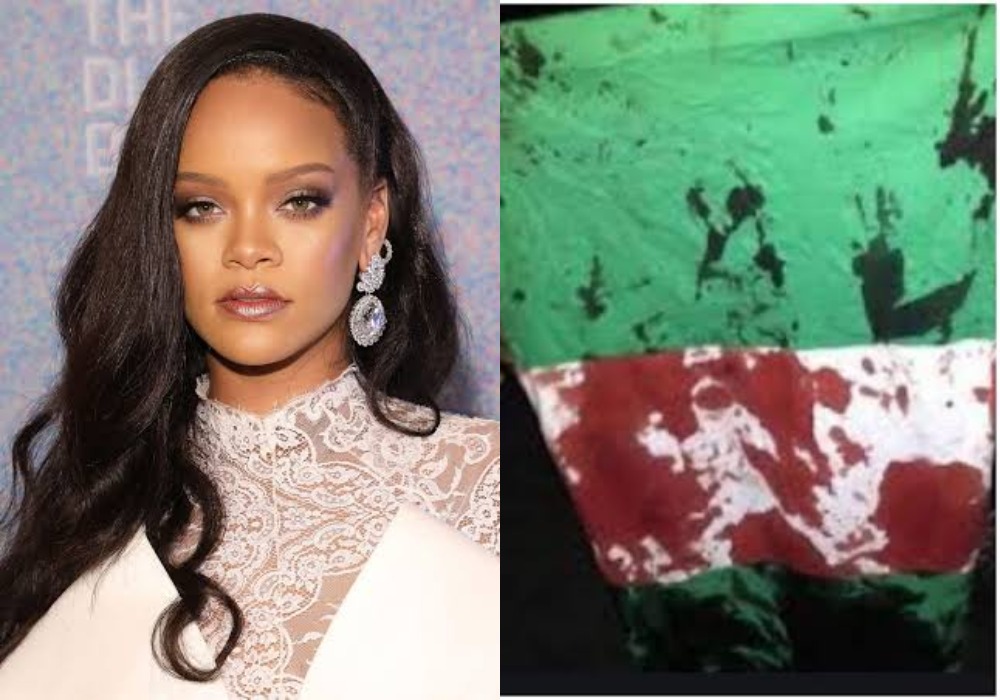 KanyiDaily had reported that there is an ongoing #EndSARS protest across the country against the SARS tactical unit of the Nigerian Police Force over its brutality, illegal arrest, extortion, extra-judicial killings, among others.
On Tuesday night, October 21, 2020, Nigerian Soldiers opened fire on the peaceful #EndSARS protesters at the Lekki toll gate, killing about nine people and injuring so many others.
Reacting on her Twitter page, Rihanna said she could not bear to see the torture and brutality that has continued to occur not only in Nigeria but also across the world.
She shared a photo of a blood stained Nigerian flag and saluted Nigerians for their courage in fighting for what is right despite the tough times.
"I can't bare to see this torture and brutalization that is continuing to affect nations across our planet!" the singer wrote on social media. "It's such a betrayal to the citizens, the very people put in place to protect are the ones we are most afraid of being murdered by!"

"My heart is broken for Nigeria man!! It is unbearable to watch! I'm so proud of your strength and not letting up on the fight for what's right! #ENDSARS."
#ENDSARS 🇳🇬 pic.twitter.com/59lrs8JnDA

— Rihanna (@rihanna) October 20, 2020
Meanwhile, a former First Lady of the United States of America, Hillary Clinton has asked President Muhammadu Buhari and the Nigerian Army to stop killing young #EndSARS protesters.