Former Kaduna Senator, Shehu Sani has adopted a two-week-old baby, abandoned on the street of Nasarawa State.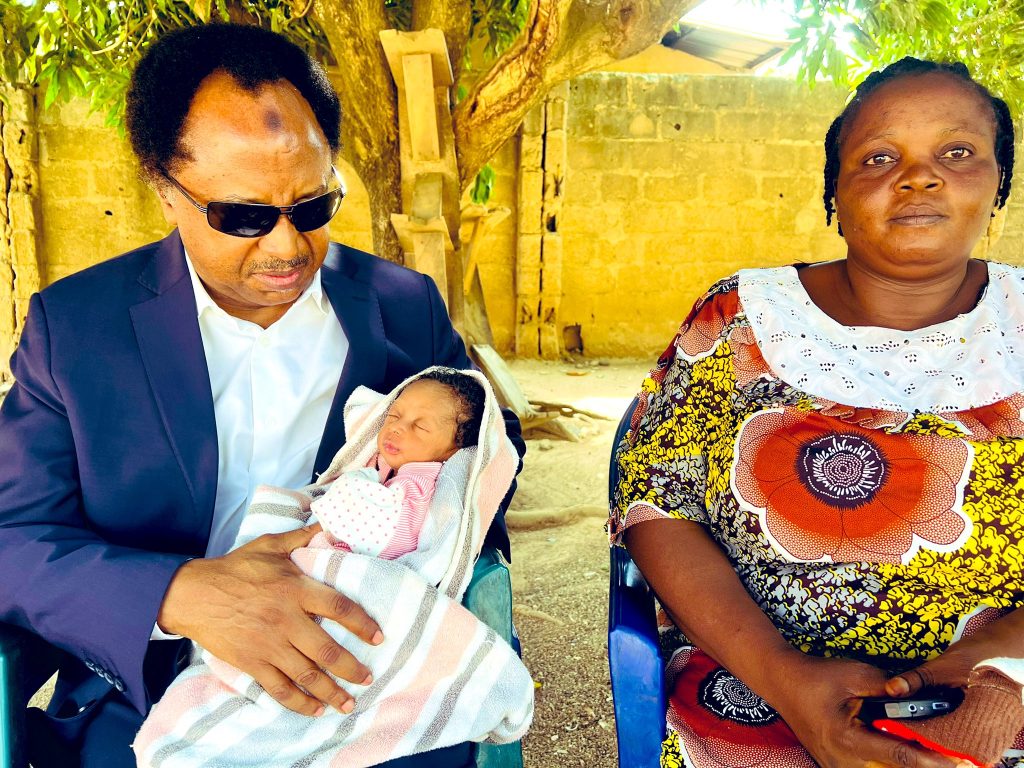 Two-Week-Old Abandoned Baby Adopted By Shehu Sani
Shehu Sani disclosed this in a tweet on his official Twitter handle.
Shehu Sani said the baby was picked up by a police patrol team, who proceeded to a social welfare centre.
The senator, who represented Kaduna Central senatorial district in the 8th Assembly, on Tuesday, paid a visit to the Restored Destiny Child Orphanage Foundation where the baby is kept and pledged to provide the necessary support.
He commended the orphanage for agreeing to take up the child's responsibility.
Sani, who christened the child "Jordan Shehu", promised to support the child's upbringing.
He wrote, "This Little Baby Boy was abandoned by the roadside.
"The Police picked him up and handed him over to the Social Welfare Department and the department handed him over to an Orphanage; I'm now the father and named him Jordan."
This Little Baby Boy was abandoned by the road side.The Police picked him and handed him over to the Social Welfare Department and the department handed him over to an Orphanage;I'm now the father and named him Jordan.Mrs Grace by my side is the proprietor of the Orphanage. pic.twitter.com/nSOFtJ52nv

— Senator Shehu Sani (@ShehuSani) February 7, 2023
He said the increased rate of abandoned children was worrisome.
Sani said reports had shown that many children, who were born under such circumstances were from unwanted pregnancies, particularly from single girls.
According to him, the mothers of such abandoned children do so to avoid stigmatisation.
He said, while no immoral act should be condoned, girls who got pregnant outside wedlock should be supported and counselled.
The lawmaker said different factors were responsible for mothers abandoning their children.
"One of the factors is the stigma attached to such birth and I think it is high time our society began to address and discuss this issue.
"By addressing this issue, the idea of shaming people who give birth to this type of child will be checked.
"It is also essential that our society starts to pay attention to orphanages, where these types of children are kept.
"Children without parents belong to the society and we must play our part in their upbringing," he said.
The lawmaker called on leaders to use their position to change the narrative.
He said, "our traditional and religious leaders should wade into this issue, first to prevent the type of pregnancy that leads to this kind of birth.
"However, when it happens, we should accept them as one of us.
"There is nobody that is born without a father or a mother.
"So when we begin to discuss this issue, it will make it easier for children born under such circumstances to live with their parents," he said.
The lawmaker thanked the orphanage for accepting to cater to the child.
The Founder, Restored Destiny Child Orphanage Foundation, Mrs. Grace Chinedu, said she was elated by the visit.
She said she would continue to work to put smiles on the faces of children who were not privileged to be under their parents' tutelage.
Chinedu said the orphanage, which houses over 26 children was founded seven years ago.
She thanked the former lawmaker and other Nigerians, who had assisted the orphanage over time.
The founder said, "no help rendered to an abandoned child or an orphan will go unrewarded."
In other news, Kanyi Daily reported that Justice A.I. Akobi of the FCT High Court Gwagwalada Abuja has sentenced three internet fraudsters, otherwise known as "Yahoo Boys" to community service in Abuja.