Floyd Mayweather Jr has been stripped of the WBO welterweight title he won in his victory over Manny Pacquiao after failing to comply with the organisation's rules.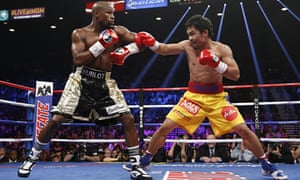 Mayweather, who also holds the WBC and WBA titles, had until Friday to pay a $200,000 sanctioning fee from the 2 May fight, for which he earned more than $220 million, reported ESPN.com. He also has not reliquished his junior middleweight titles – WBO rules state that a boxer can only hold belts in one weight class, they had given Mayweather time to make the decision on which weight to stick at.
More details when you continue….
Part of the statement released by WBO reads:
"The WBO world championship committee is allowed no other alternative but to cease to recognize Mr. Floyd Mayweather Jr. as the WBO welterweight champion of the world and vacate his title for failing to comply with our WBO regulations of world championship contests,"
"The WBO has the utmost respect for Floyd Mayweather Jr. and all that he has accomplished during his storied career. Mr. Mayweather has always agreed with and understood that world championships have both privileges and responsibilities and that status as WBO champion is subject to and conditioned on compliance with the WBO rules and regulations."
Mayweather, who still holds WBC and WBA titles, had said after the Pacquiao fight that he would relinquish his belts:
"Other fighters need to get a chance. I'm not greedy. I'm a world champion at two different weight classes right now … It's time to let other fighters fight for the belts."
However, the choice has now been taken out of his hands. Interim WBO welterweight champion Timothy Bradley will step up to take the belt.