The Nigeria Army on Wednesday kicked off a manhunt for the fourth batch of the wanted Boko Haram leaders who have been terrorizing the northern part of the country.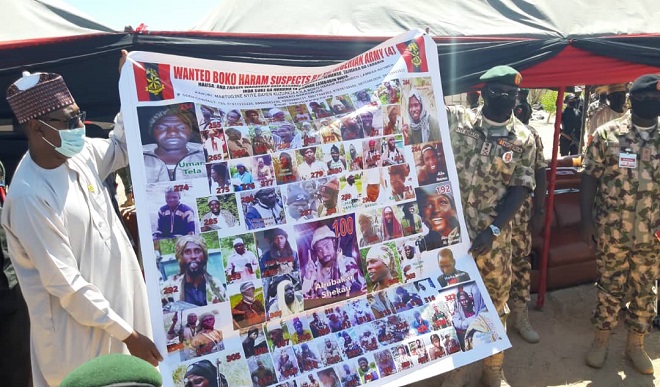 A banner showing photographs of the wanted terrorists was unveiled by Governor Babagana Zulum of Borno and the Chief of Army Staff, Tukur Buratai, on Wednesday at the CJTF Super Camp Chabal, near Maiduguri.
Some of the names which appeared on the lists including Abubakar Shekau, Abu Mus'ab Al- Barnawi, Modu Sulum, Umaru Tela, Iman Balge, Abu Umma, Mallam Bako(Hisbah), Abu Dardda, Ibrahim Abu Maryam amongst many others.
The Chief of Army Staff, Mr Buratai, said that some of the terrorists that had been declared wanted since 2016 have either been arrested or killed in various operations while some had been on the run.
He called on members of the public as well as the CJTF to support the army in fishing out remnants of Boko Haram terrorists that were still hiding and operating within their localities.
Buratai , who also announced the inclusion of more CJTF members into its operations, urged the troops to continue to deal decisively with the terrorists that were hiding in the forests.
"We request your full cooperation. The public as well as the Civilian JTF, you will have a copy each, so you'll follow up," Buratai said during the ceremony.

"Some of them may be behind your yard or parading themselves somewhere in the market-place and so on. They must be fished out and those in the forest, if you encounter them, make sure you deal with them decisively if they cannot be arrested or captured.

"It is on this note, we will also like the press to give us their full support to ensure that we have gotten the right solution to ending this menace of the Boko Haram terrorist in our state, in our country, as well as for humanity".
The COAS commended the governor for his effort in gathering the volunteers toward ensuring that the people return to their communities.
He assured that the collaboration between the military and the CJTF as well as other security agencies would ensure the actualisation of the resettlement plan of the government.
According to him, elaborate arrangement has been made for their welfare as well as the equipment for them to operate effectively.
He added that the CJTF would be the stabilising force that would change the course of the counter insurgency operation in the North East.
In his remarks, Governor Zulum commended effort of the military in the fight against insurgency. He also appealed to the outlawed groups to stop the destruction and embrace peace path.
KanyiDaily recalls that after the Nigerian Army claimed they have killed Shekau in 2016, the Boko Haram's leader appeared in a video saying his alive and President Buhari is deceiving Nigerians while he worships his cows.