Wonders, they say, shall never end as a Nigerian man lost his car after he used it to bet that Argentina was going to defeat Saudi Arabia at the ongoing FIFA World Cup Qatar 2022.
How Nigerian Man Lost His Car To Bet Over Argentina VS Saudi Arabia Match
This was disclosed by his wife Constance Kelvin Okoye in a Facebook comment on Wednesday evening while reacting to a post made by one Nelly Agbogu.
Agbogu in her short post urged people to stay away from world cup betting.
She wrote, "I don't know who needs to hear this. Just stay away from World Cup betting."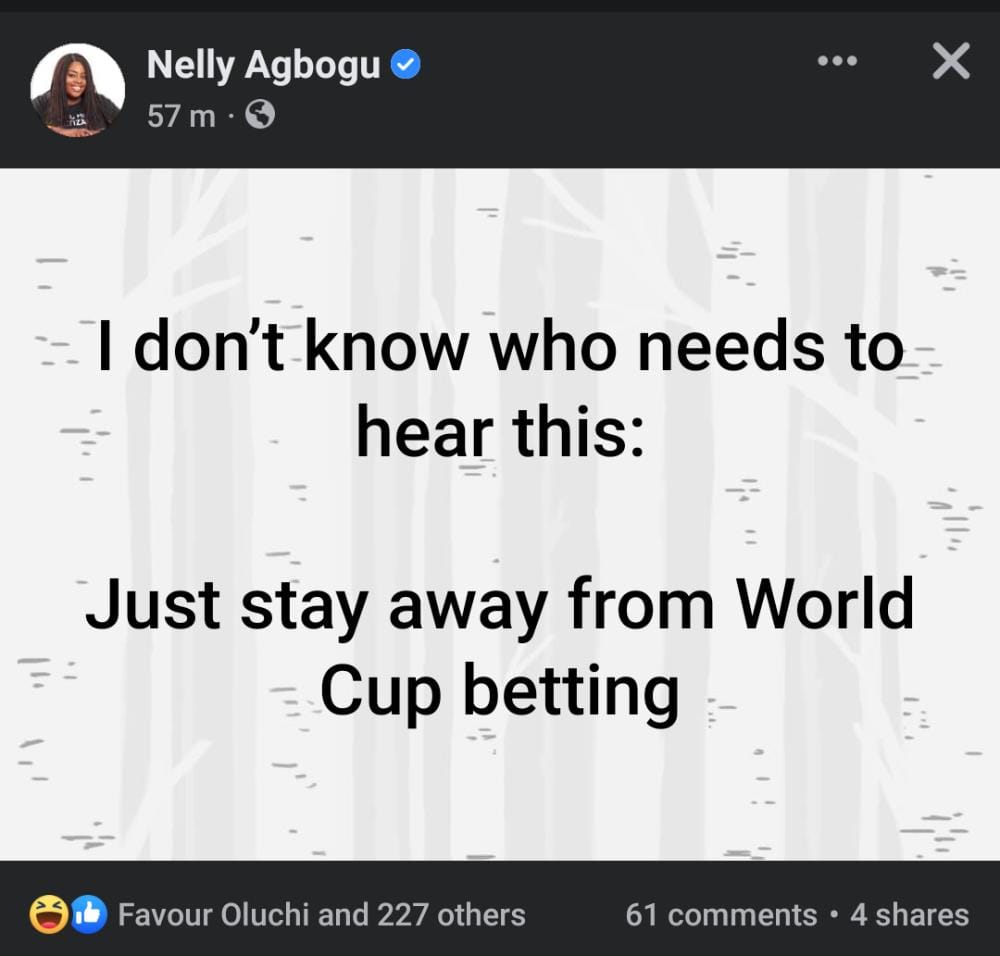 Recall that Saudi Arabia in a historic feat beat Argentina 2:1.
The match which was held on Tuesday afternoon saw the Arabian side shockingly defeat World Cup favourites Argentina in Group C after an unbelievable performance.
Although Argentina was tipped to win, plus they had arguably the best player in the world at the moment, seven-time Ballon d'Or winner, Lionel Messi, they struggled to have a foothold in the game losing all three points to a resilient Saudi Arabia.
Taking to the comment section of Agbogu's post, Constance Kelvin Okoye disclosed that her husband lost his car yesterday after he used it to bet that Argentina was going to win.
According to her, when the husband came home without his car, she inquired him about its whereabouts, and he told her it has a mechanical fault.
She added that her husband asked her this morning for a hundred naira so he could use it as transport for a commercial tricycle, better known as"Keke", but she told him she doesn't have it.
"You are talking to my husband. He lost his car yesterday via Argentina vs Saudi Arabia. He bet with his car that Argentina will win. Yesterday he came back without his car and when I asked him about it, he told me it has a mechanical fault without knowing he has lost it to betting. This morning he asked me for 100naira for Keke I told him I no get," she wrote.
Meanwhile, Kanyi Daily reported that following their historic 2-1 win against Argentina at the 2022 Qatar World Cup, King Salman bin Abdulaziz Al Saud of Saudi Arabia declared today, Wednesday a public holiday in the country.
Saudi Gazette announced on Twitter on Tuesday evening.