Lagos Mum Mobilizes Men To Beat Up Daughter's Boyfriend, But They Ended Up Killing His Roommate
A woman identified as Morenikeji Olawunmi has been arrested after the men she mobilised to beat up one Abu, who was allegedly dating her teenage daughter, ended up killing his roommate in the Alakuko area of Lagos State.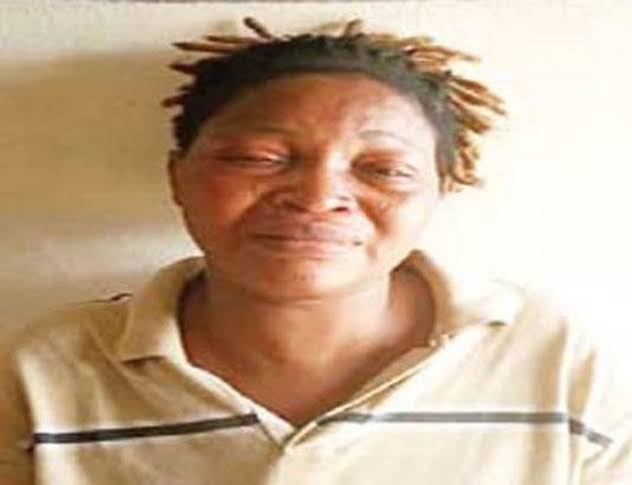 It was learnt that Olawunmi had invited her two friends, Iya Abe and Ajoke Bello, to help her threaten Abu on the suspicion that he had been having sexual relations with her 16-year-old daughter.
However, Iya Abe was assualted and injured by Abu during the confrontion.
Angered by the injuries she sustained during the assault, Iya Abe informed her son, Toheeb, who mobilised two other yet-to-be-identified friends to Olawunmi's residence on Oluobadare Street Gbadabiu area of Alakuko, on Saturday, January 18, 2020.
A resident of the area, Johnson Idowu, said Abu fled from home before Toheeb and his friends got there, adding that in a bid to avenge his mother's injuries, the men pounced on Abu's roommate, Okebukola, and allegedly stabbed him with broken bottles in his leg.
"Immediately blood started gushing out of his leg, because his vein had cut, and he was rushed to hospital but died on the way. After Okebukola died, Iya Abe, Toheeb and his two accomplices ran away. The person who was killed knew nothing about what happened; he was the landlady's son, who accommodated Abu in his room," the resident said.
Speaking with newsmen over the incident, Olawunmi blamed herself for the circumstances that lead to his death, adding that Abu, who was the cause of the incident, ignored advice to desist from seeing her daughter.
"My daughter has been behaving strangely lately and I do beat her so that she could stop the behaviour. I even reported her to one of our neighbours, who informed me that my daughter was fond of seeing one Abu, who was staying with my landlady's son, Okebukola.

"I asked Abu and my daughter to stop seeing each other but they refused to obey me. I had to call Iya Abe and my friend, Ajoke Bello, to help speak to my daughter and threaten Abu, but in the process, Iya Abe was injured by Abu. So, Iya Abe held Abu down, and quickly informed her son, Toheeb, who came with two other boys.

"Abu quickly got himself freed from Iya Abe and ran away. So, when her son and the two other guys came, they chased Okebukola and stabbed him in the leg. We rushed him to three different hospitals, but he was rejected and that was how he died. I was not the one who killed Okebukola, but I blame myself for all that happened."
When contacted, the state Police Public Relations Officer, Muyiwa Adejobi, said Olawunmi would be transferred to the State Criminal Investigation and Intelligence Department, Panti, Yaba, for further investigation, adding that some boys in the area, while protesting Okebukola's death, destroyed both Iya Abe and Toheeb's shops.
"When the incident was reported at the Alakuko Division, the Divisional Police Officer, SP Maryam Sonubi, mobilised policemen and the woman (Olawunmi), who alleged that one Abu was sleeping with her 16-year-old daughter, was arrested.

"During interrogation, she said she had warned him (Abu), but he refused to leave her daughter and she reported to some people, who called some boys, including one Toheeb, in the area to threaten him.

"It was out of annoyance that Toheeb's mother called him because she was injured by Abu when they were threatening him to leave the woman's daughter.

"So, Toheeb brought some guys to beat up Abu, who escaped, but his roommate, Okebukola, was attacked and stabbed to death. Unfortunately, the roommate was not the target."
Adejobi explained that a manhunt had been launched for Toheeb and his accomplices, adding that Okebukola's remains were deposited in the Ifo General Hospital for autopsy.
"We were unable to pick the woman, who invited the boys. The boys also ran away but aggrieved youths in the community destroyed Toheeb's shop and house for leading others to stab the victim.

"The Commissioner of Police, Hakeem Odumosu, has launched a manhunt for Toheeb and his accomplices to get them arrested and brought to justice," he added.
KanyiDaily had also reported how a lady was accidentally killed by a stray bullet from the gun of a soldier invited by her sister to allegedly beat up their neighbour in Lagos.