Leader of pan-Yoruba group, Afenifere, Chief Ayo Adebanjo says the ruling All Progressives Congress (APC) lacks the credibility to ask Nigerians for their votes again after eight years of complete failure.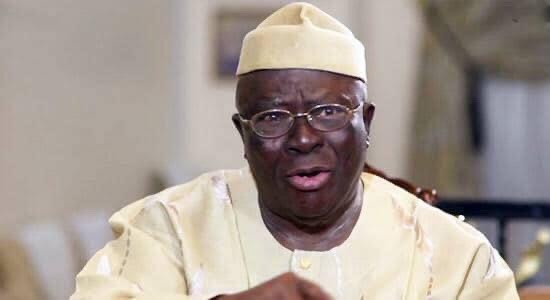 Ayo Adebanjo Tackles APC
The elder statesman, who spoke during an interview on Arise TV on Wednesday, asked Nigerians not to vote for the APC in the 2023 presidential election.
According to him, it's only in a country like Nigeria that the APC will have the effrontery to come and ask Nigerians to vote after eight years of disaster.
Adebanjo said, "What could be the reaction of APC, what credit has the APC got to come back to Nigerians again to say they should vote for them?
"It's only in a country like that the APC will have the effrontery to come and ask Nigerians to vote for them after eight years of disaster, on what record? For the security they have given us? For the improvements of our infrastructure? For the improvements of our economy? On what measure of governance can they say they have a claim to be elected?
"The case of APC is mountainous for rejection, they have no cause to show their face at all, they are a complete failure and this country will be unwise to after I warned them not to vote for Buhari to go again for another Buhari party.
"What have they done to recommend them? is it your naira that has improved? Can you travel on your road? Can you sleep with your eyes twice closed? The security situation is worsening day by day."
Speaking on the rotational presidency, Adebanjo said the APC presidential candidate, Bola Tinubu, and his counterpart in the Peoples Democratic Party (PDP), Atiku Abubakar, did not have to contest again after past futile attempts to become the President.
He further stated that it is not the right of the southwesterners to lay claim to the presidency after producing a President for eight years and a Vice President for eight years.
Adebanjo said, "Atiku's case is very simple, he did not have the right to come back again after eight years, just as I'm opposed to Tinubu for many reasons. It's not the right of the south westerners to come and claim presidency.
"If you want peace in Nigeria, if you want equity and justice, if you want to be united, we are talking of rotation, you're talking of federal character; it has gone to the north down to the south, should it come to the south with the same region that has had it with Obasanjo for eight years?
"Yemi Osinbajo with eight years as Vice President, south-south has had it with (Goodluck) Jonathan, is South-East not part of Nigeria?
"Anything that will cause disharmony, I'm against it. Those who are talking now are just talking about politics of convenience, politics of dollars and naira."
"Any supporter of non-Igbo extraction to be president of Nigeria now, it's not their privilege, it's a constitutional right if you want peace and quiet in this country," he added.
Pa Adebanjo said it is the lack of justice and equity that's giving rise to agitations in the southern part of the country.
"It is the lack of justice under this constitution that's giving rise to agitation be it IPOB (Indigenous People of Biafra), (Sunday) Igboho, be it anybody. If there's no equity in any organization, there will be no peace," he said.
The Afenifere leader described Peter Obi of Labour Party (LP) as the candidate of Nigerians fed up with Buhari's administration.
KanyiDaily recalls that Ayo Adebanjo had recently urged Nigerians to shun ethnic sentiments and vote for Peter Obi in the 2023 election.