I Caught Baba Ijesha Molesting My Child 7 Years After He Defiled Her – Comedian Princess [Video]
Popular Comedian, Princess has narrated how she caught a Nollywood actor, Baba Ijesha, allegedly molesting her 14-year-old foster child after he defiled her seven years ago.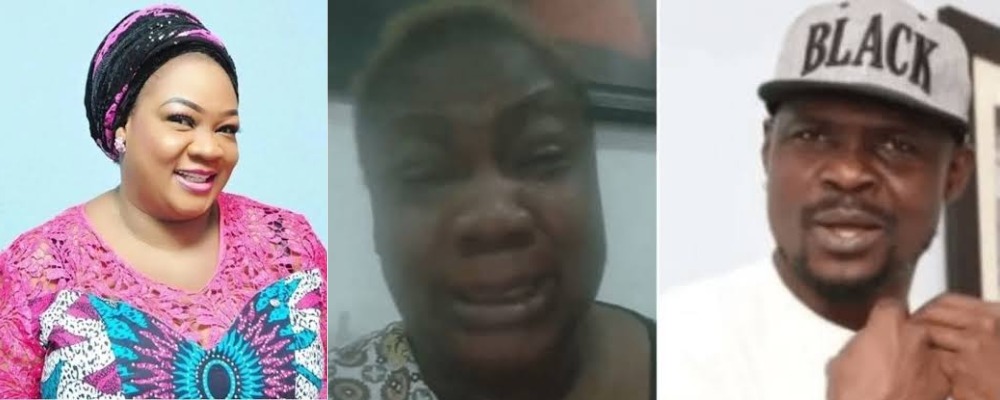 KanyiDaily recalls that Baba Ijesha, a 48-year-old Yoruba actor, was arrested last Thursday for allegedly defiling a 14-year-old girl since the past 7 years.
In a vido shared on her Instagram page, Princess revealed that her foster child is the 14-year-old girl allegedly defiled by Baba Ijesha when she was only seven.
She narrated how she caught the the actor red-handed on CCTV camera molesting her foster child, who is now 14 years old, after the little girl opened up to her and someone else what Baba Ijesha did to her seven years ago.
"I have read and heard a lot over the last few days. I don't wish anyone to go through what I'm going through," Princess said.

"Some years ago I had challenges in my marriage and I lost a baby. Out of compassion, some parents in my area allowed their children to stay with me, so i would not feel lonely.

"There were six of them – 3 boys and 3 girls. Baba Ijesha had some challenges and he needed my help in getting into UNILAG. I enrolled him for GCE.

"That day, he came for more help and I was at home, so he came to my house, and i was not going out. I asked the children, the three boys to go play.. two of the other girls wanted to follow them.
"My aunty had come to visit me, and he was there, when she was leaving, I had to go downstairs to lock the gate after her. I did not know what happened within the space of two-three minutes, but the following week, the school called me to come and see what happened with my children. They said the girl sat on her brother's legs and was doing her waist in the weird manner.

"The parents are very strict and accordingly, when they are with me, i monitor what they watch. The parents felt it was spiritual, and so we started praying.

"So he warned her not to tell anybody, he came back the next day to be sure she didn't tell anybody. So he asked her to follow him to the car, that he brought food, when she followed him, he used his KEY to defile her, yet again. He didn't come to my house again but anytime he needed help, he would call me.

"Then the child started failing in school, I will pay for private lessons, when i told my family, they told me it was spiritual, they were fasting and praying, but i knew something was wrong somewhere.
"My friend now talked to the child, asking what is going on, when i heard it, I was hurt and shocked.

"I decided to call Baba Ijesha but my friend asked us to be wise, that people will want to support Baba Ijesha If we don't have enough evidence, I called CCTV Company to come to set up a camera.

"I sent him a DM, told him that I had a movie to shoot so he should come to the house. While he was on his way I told CCTV company to come and fix a camera so that people will not think we want to set Baba Ijesha up.

"We told everybody to leave the house, she was scared because she hadn't seen him again since that 7 years.
"The CCTV was set up, he came in, he saw that there was nobody at home.. I told him i was going somewhere that he should feel relaxed, he said okay.

"Barely few seconds after i left, he stood up, he began to check my whole house to be sure that none of the children were awake. He checked for cameras and when he was sure there was none, he started.

"I can't even begin to relay the things he did because i was shaking, it was too much for me.
Princess, who broke down in tears, said she queried Baba Ijesha, demanding why he did such a thing to her and he confessed 'It was the Devil'
The comedian further called out those who are accusing her of trying to "tarnish his image." She wondered why people will demand that the video of minor being molested be shared to the public.
Watch the video below;
Meanwhile, Nollywood actress Tonto Dikeh has vowed to use all her influence to deal with Baba Ijesha, saying she will personally make sure he never sees the light of day, as he will rot in jail.