US Capitol Attack: "No Ambition Is Worth The Blood Of Any Citizen" – Jonathan Tells Trump
Former President of Nigeria, Goodluck Jonathan reacted to the violence that rocked the US Capitol Hill following the invasion by the supporters of President Donald Trump.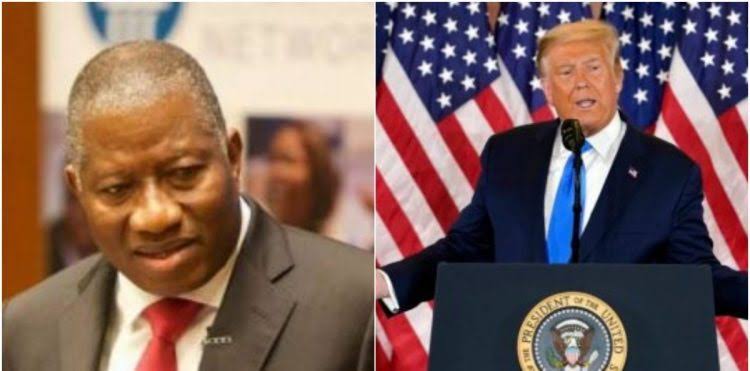 KanyiDaily had reported how Trump's loyalists stormed the Capitol Hill to protest the results of the US elections which produced Joe Biden as the next president of America.
Trump, who has refused to concede the November 3 presidential election, had charged his supporters to march to the Capitol on Wednesday, January 6, 2020.
During the protest, Trump's supporters breached barricades and broke windows to enter the Capitol, leading to the death of an unidentified woman was shot dead during the invasion.
The Vice President, Mike Pence, was scuttled to safety during the incident, while other lawmakers were evacuated from the building by the police.
Reacting in a post shared on his Facebook page, Jonathan said that nobody's political ambition is worth the blood of any citizen anywhere in the world.
Jonathan, who congratulated his opponent, President Muhammadu Buhari in 2015, even before the election results were fully announced, said leaders must choose the path of honour and put the interest of their people first.
"I have repeatedly said nobody's political ambition is worth the blood of any citizen, in any part of the world. Absolutely nobody. Again, I reiterate that it is better to lose power at the cost of gaining peace than to gain power at the price of losing the peace.
"As a leader, one must not just look unto one's own interest, but the interest and the good of society. It is never too late to reject the venom and inject the serum of peace.

"It is necessary to state that the highest purpose of leadership is to bring people together, even those that do not share in your philosophy. And you do not need an office to do that. All you need to achieve that height of leadership is conscience. Let us be men of conscience at this hour," he said.
Meanwhile, the US Congress has now certified Joe Biden's election as the 46th President of the US after counting of Electoral College votes.